The Health Research Reporter | November 2020
The Health Research Reporter - November 2020
The monthly newsletter from the Faculty of Health Sciences Research Office
Our world-class professors work in our five academic units: Nursing, Nutrition Sciences, Rehabilitation Sciences, Human Kinetics and the Interdisciplinary School of Health Sciences
A word from the Vice Dean Research
Dear colleagues,
I am very pleased to share with you a regular issue of our Health Research Reporter, which is only possible because of the unwavering commitment of our support staff. We are thrilled that since Friday October 30, our support staff is back, and that we are getting back to "business as usual". I'd like to express a heartwarming "welcome back" to all our support staff in the FHS!
The process of resumption of in-person human participant research via the Safe Research Plan (SRP) form is getting well underway, and ethics approval for the modifications follow smoothly, 2 to 3 weeks following the SRP approval of the faculty. However, timelines have been somewhat delayed because of the strike, but should get back on track soon.
We are very pleased the strike is over, but nevertheless, we acknowledge the strike has already impacted research. To give voice to the colleagues who answered our call to share their concerns about these challenges, we can inform you that the information collected through the Vice-Deans Research of various faculties will be presented at the Research Commission in November. Thank you to all those who provided important insight on the subject.
I would also like to take this opportunity to inform you that we are postponing the launch of the recent FHS special funding opportunity - research support in relief of funding shortfalls from the COVID-19 situation until further notice, because of the current phase 3, and the upcoming phase 4 of the Canada Research Continuity Emergency Fund (CRCEF).
Finally, note that we have added an additional deadline for our popular internal research funding mechanisms, the Strategic Grant Research Support (Development Stream), notably Dec. 1. We encourage all researchers who want to develop new projects, or revise grant applications to apply. For those eligible for the Research Development Program, please note that the next Faculty deadline for this opportunity is November 15.
Wishing you continued success,
Marijke
Congratulations to Angel Foster, Full Professor in the Interdisciplinary School of Health Sciences on being selected as the Medical Women of Canada (FMWC)'s Honorary Member for 2019-2020. The Honorary Member award is given annually to a woman who has rendered outstanding service to one or more of the following: the FMWC, to medicine, to women in medicine and/or to women's health issues.
Angel has developed a robust portfolio of reproductive health research that centres on emergency contraception, abortion, health professions training, and vulnerable populations. She undertakes policy relevant and action- and intervention-oriented projects and uses multidisciplinary approaches to address complex questions and issues. She leads several projects, funded by SSHRC, Grand Challenges Canada, CanWaCH, and many foundations, that are regional or global in scope.
The Federation of Medical Women of Canada (FMWC) is a national organization committed to the professional, social and personal advancement of women physicians and to the promotion of the well- being of women both in the medical profession and in society at large. FMWC seeks to be the networking and professional development home for all Canadian women in the medical profession while being the preeminent advocate for women's health across Canada.
For more information please visit their website: FMWC.ca
Please be sure to advise us of your accomplishments so we may share and celebrate with you!
Michael De Lisio
American Institute for Cancer Research
"Aberrant myelopoiesis as a novel mechanism for the differential effects of obesity and exercise on colorectal cancer risk."
The Placenta Lab at the University of Ottawa takes an interdisciplinary approach to identify the mechanisms that underlie abnormal placental development and function, and translates these findings into clinically useful tools aimed at improving pregnancy outcomes. The Placenta Lab is headed by Dr. Shannon Bainbridge, who has trained in the disciplines of molecular and cell biology, reproductive physiology and obstetrics. Dr. Bainbridge's research program is currently funded by the Canadian Institute of Health Research (CIHR), Canadian Foundation of Innovation (CFI), Molly Towell Perinatal Research Foundation and Preeclampsia Foundation. Details of ongoing research projects within the Placenta Lab can be found on the Research Projects page.
Follow on Twitter @PlacentaLab
Technical Expertise and Infrastructure
•In vitro placental perfusion
•In vitro placental cell culture (JEG3, HTR8, Bewo cell lines)
•In vitro placental tissue explant culture
•In vitro Matrigel invasion assay•In vivo animal models of preeclampsia and IUGR
•Genome-wide microarray analysis
•Real-time PCR
•Immunohistochemistry
•H&E staining
•Vascular corrosion casting
•Micro-computed tomography of placental vasculature
•Western blot analysis
•Multiplex immunoarray
•ELISA
The research spotlight aims to celebrate the wonderful research that is taking place in our faculty. This summer, it also attempted to entertain somewhat through some difficult times. As we begin a new school year we continue to learn about our faculty's researchers and their research programs and we continue to ask a few light hearted questions just for fun. Participation is always completely voluntary.
Sarah Fraser
Assistant Professor, Interdisciplinary School of Health Sciences
I like to say that I take interdisciplinary research to a whole new level. My focus is on Cognitive Aging but I look at physical, cognitive, neural and social aspects that influence changes in the brain and behaviour of older adults. One aspect of my research I have people multitask (walk and talk) and I measure their behaviour (how they walk and talk) and their brain activity (changes in cerebral oxygenation in their prefrontal cortex). This provides me with some information on how we manage multitasking and who might be more at risk of future cognitive declines. In terms of social aspects, I ask older adults what they think. Do they see themselves as they have been described in the media "as vulnerable" or do they think they have been misrepresented? Do these pervasive negative stereotypes about them influence how they think about themselves and their cognitive aging?
I was born in...
Montreal and will always be a Montrealer
When I was a child, I wanted to be...
A nurse, but then I followed one around a geriatric ward and decided there was too much charting and I just wanted to hang-out with the older adults
If I could go back to anytime in history, I would go to...
The 1920s, I think I would be a really great flapper!
If I could only have one meal for the rest of my life...
The death of me, we are a family of chefs and love creating and tasting new culinary delights.
What makes me laugh the most...
Watching and hearing other people laugh (especially children)!
My number one recommendation to all of us for healthy living is…
Laugh a lot and take life less seriously. Adapt as changes occur and you will fare well, the older adults I work with are proof of this.
Chantal Laroche
Full Professor, School of Rehabilitation
Website: https://sante.uottawa.ca/personnes/laroche-chantal
Have you ever wondered if a police officer who wears hearing aids can perform their duties safely? Have you heard the new back-up alarm ("pchitt-pchitt") on the City of Ottawa's snow removal trucks? Does wearing hearing protection prevent workers or military personnel from perceiving speech and sound signals in their noisy work environment? All these questions have been at the heart of our research concerns for 27 years and our discoveries have had concrete repercussions in the workplace. Our team (Christian Giguère, Véronique Vaillancourt and many master's students in audiology) collaborated with Fisheries and Oceans Canada, the RCMP and the Ontario Ministry of Public Safety to establish criteria for hiring or job retention for employees with hearing loss who have to perform critical hearing tasks. We are also studying a wideband back-up alarm that is gradually replacing the conventional alarm ("beep-beep") on heavy vehicles with the aim of improving the safety of workers and pedestrians. National Defense also called on our expertise to better understand the impact of hearing protectors and a second language on the perception of speech in military personnel. All of these projects present exciting challenges that I will miss when it comes time to retire… in less than two years.
I was born in...
I was born in Montreal on March 6, 1962. I lived in the greater Montreal area until Monique Bégin (first dean of the faculty) came to uproot me from my environment in 1993. I have never regretted my decision to settle in the Outaouais. What a wonderful place to raise a family!
When I was a child, I wanted to be…
When I was a child, I wanted to be a pediatrician. When I confirmed my place in medicine at the University of Sherbrooke in 1981, I had some hesitation. Within hours, I decided to branch off into the audiology program (an area that I didn't really know) offered at the University of Montreal. From my first year of baccalaureate, I had the bite and I knew I was going to complete a doctorate, which I did in 1989. I have never regretted my choice of career and I am convinced that I have had a more balanced life than if I had opted for medicine.
If I could go back to anytime in history, I would go to...
I'm not the type to look back to a time that I haven't experienced myself. For me the '70s were memorable. End of elementary school, start of secondary school, the 1976 Olympic Games, family trips in trailer tents, evenings playing outside with the neighborhood children… all great memories.
If I could only have one meal for the rest of my life it would be…
Shrimp and scallops, bring some! During a recent "road trip" in Gaspésie with my new VanLife (which I called "Laroche qui roule"), I gorged myself on seafood. Hoping that I will not develop allergies!
What makes me laugh the most is…
I could answer the puns of my husband and his son Nicolas (journalist for Radio-Canada on the show Les Matins from here), but great comedians like Yvon Deschamps, Clémence Desrochers, Lise Dion and André Sauvé are difficult to beat to provoke bursts of laughter in me.
My number one recommendation to all of us for healthy living is…
No matter how healthy we eat and exercise, there's no denying that life hangs by a thread. Tragic deaths around me have marked me forever. Living in the moment! To enjoy life! This has been my motto for several years (my partner, his son, my two daughters, and my "adopted daughter" know all about it). I promise to continue this momentum when I retire in less than two years. My VanLife "Laroche qui roule" is patiently waiting for me to take me on unforgettable adventures that will keep me healthy for a long time, at least I hope so.
Martin Camiré
Associate Professor, School of Human Kinetics
Twitter: @martin_camire
My research is in the optimization of the psychosocial development of young people in the sports context. Recently, I have a more specific interest in the link between sport participation and mental health in young athletes.
I was born in...
Hearst, Ontario.
When I was a child, I wanted to be...
Lots of things! Prime Minister, then a banker (I think), then an NBA player. I never saw myself as a university professor growing up.
If I could go back to anytime in history, I would go…
That is a fascinating question. There are many interesting human beings I would like to go back in history and talk to, such as Confucius, Aristotle, Descartes, Joan of Arc, Copernicus, Magellan, Newton, Piaget, da Vinci, and Curie, just to name a few. However, if I had to pick one moment in time, I would probably go back to 1905 to witness Einstein's Annus mirabilis, as it happened. I visited in 2015 the apartment (now a museum) in Bern, Switzerland where he wrote his series of papers on special relativity, it was a pretty surreal experience as an academic.
If I could only have one meal for the rest of my life it would be...
That is a tough question. Does it mean (a) I have one last meal to enjoy before I die or (b) I have to eat the same exact thing for the next 50 years?!! I will explain the first option…! As an avid wine drinker and having a daughter named Margaux, I would want my last meal to be at Château Margaux (in Bordeaux, France) surrounded by family and friends. The winemaker himself would serve us a fantastic meal paired with old vintages of Margaux that go back many decades!
What makes me laugh the most is...
My children!
My number one recommendation to all of us for healthy living is…
Laugh, don't take yourself too seriously, find balance in everything, spend quality time with family / friends and drink good wine. Not to mention physical activity of course!
Josephine Etowa
Full Professor, School of Nursing
Despite Canada's Universal health care system, inequities in health and healthcare for marginalized populations continue to exist. Health inequities along ethno-racial lines are common knowledge and are rooted in multiple factors, such as differential access to health care, which are interwoven in complex ways. Current evidence suggests that racialized populations such as African Caribbean and Black (ACB) people have poorer health outcomes (compared to whites) from preventable and treatable conditions such as HIV and COVID-19. Our research in Collaborative Critical Research for Equity and Transformation in Health (the CO-CREATH) lab contributes to better understanding of the complex interplay of various determinants of inequities in health and health care. Community based participatory research (CBPR) approach informed by intersectionality theory guides our meaningful collaboration with communities and various stakeholders across Canada and internationally to examine health inequities in two major areas; 1). determinants of health and health care access for racialized populations and perinatal families, AND 2). human resources for health with a focus on improving the health of ACB people. Current projects aim to improve understanding of HIV associated behaviours, knowledge, individual, community and structural factors among ACB communities in order to inform policy, programs and research. We are also generating evidence to inform clinical and health system management to mitigate the spread of COVID-19 and related health consequences in racialized communities. We are building individual, community and organizational capacity and leadership to address COVID-19 related-health outcomes. Our research projects have been funded by international, national, provincial, and local organizations.
I was born in…
A small village in South-Eastern, Nigeria, in West Africa
When I was a child, I wanted to be…
Someone that can help people; a nurse or a doctor and an excellent nurse. I had no idea how far my dreams could take me.
If I could go back to anytime in history, I would go...
There are many times I would like to go back to, one of them is to experience the pre-colonial African villages, Chinua Achebe wrote so vividly about in his novels which include; when 'A Man of the People' is 'No longer at Ease', the 'Arrow of God' points towards him and 'Things far Apart'.
If I could only have one meal for the rest of my life it would be…
Jollof rice and fried plantain served with Nigerian beef suya
What makes me laugh the most is…
Family story times especially my son 's 'infectious laughs'. Seeing other people fulfil their goals and aspirations also bring me great joy and laughter
My number one recommendation to all of us for healthy living is…
Be each other's keeper and be the change that you want to see during these difficult times. And extend the compassion you are showing to others to yourself!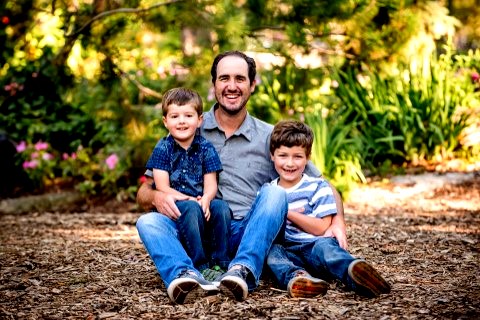 Daniel Bérubé
Assistant Professor, Interdisciplinary School of Health Sciences
Site web: https://health.uottawa.ca/people/berube-daniel
My research focuses on language acquisition (eg, phonology and vocabulary) and literacy in typically developing bilingual children and those with disabilities. I am pursuing two related axes: 1) development of tools for language assessment and 2) language acquisition using an ecosystem approach. Depending on the ecosystem framework, I explore several factors that may explain language development, including age of acquisition (e.g. early and late bilingualism), amount of exposure (e.g. balanced and asymmetric exposure ) and the sociolinguistic context (eg attitude that the child and his community have towards the use of two languages). In addition, the language skills of bilingual children help them become good readers.
I was born...
the 25th of June 1981
When I was a child, I wanted to be…
A neurosurgeon
If I could go back to anytime in history, I would go...
The Mesozoic era because I would like to see dinosaurs with my own eyes.
If I could only have one meal for the rest of my life it would be…
Pizza (and I would allow myself to change the ingredients with each new meal)
What makes me laugh the most is…
Hearing my children laugh
My number one recommendation to all of us for healthy living is…
In fact, I have two: 1) as much as possible, not stressing myself about events that are out of my control, 2) spending time being physically active (I find myself the most motivated to do hiking and skiing when I'm in the mountains)

Internal Funding Opportunities
//